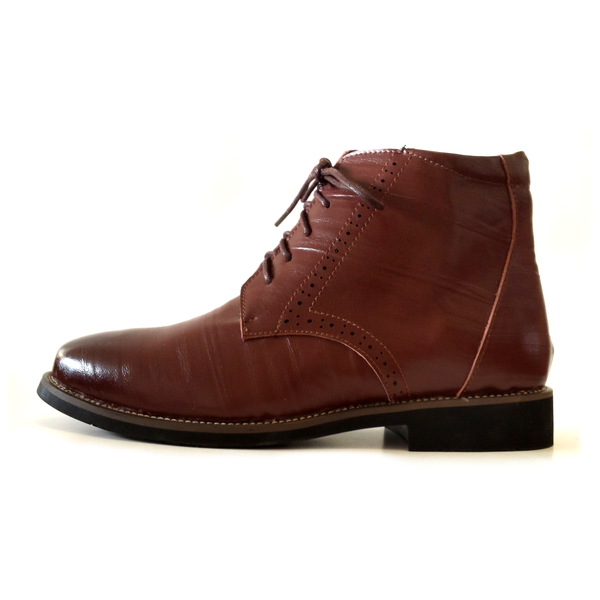 This is my second purchase from Tomboy Toes - these shoes are very stylish and sturdy in construction. I love the fact that they AREN'T leather, and aren't a product of animal exploitation. It's hard to find shoes like this! I just wish they were more comfortable. After walking around in them for an hour, they gave me huge blisters on my achille's heel, which left a scar that is still visible, even over 4 months later. I think there should be more built-in padding for the back of the heel on the shoe. Still, they are very nice.
impecable quality, 3 years later
I wore these boots almost every day for two years as a teacher, so I was on my feet all the time and they lasted beautifully. Super comfortable and they look good with any outfit. I've had them for three years now and I still love them, but they're starting to show some wear in the form of scratches and a dustiness that I can't get out with the shoe polish. I just with they were real leather so that I could make them last longer, and because genuine leather is a more attractive and sustainable material.
Exchanging - will update when I get the new pair
My first observations have more to do with the company than the product. I wanted to support a queer-owned Canadian company, but I paid in USD, and the boots apparently came from China. I had to pay nearly $30 in customs fees to obtain my package, which concerns me for any future exchanges - hoping I don't have to pay $30 every time (in addition to the $18 shipping fee).
The Boots: the boots are far too large. I have never in my adult life been smaller than a 37 - in fact, I often have to size up for leather shoes/boots like this. However, my feet float around in these boots, and even a thick pair of socks won't save me. I am exchanging for a 35 with hopes of a better fit.
The Shoelaces: the pumpkin spice colour looks really great on the website, like a muted brownish orange (perfect fall colour, and super stylish), but the actual colour is just bright cartoonish orange. This was disappointing, and so I will be returning the laces.
I will update my review once I know how my exchange and returns are handled, and have an update on boots that actually fit.
Hi Ash,
We really appreciate your being a customer and hope the replacements are the perfect size for you.
The shoes ship from our fulfillment partner in Ohio; although Tomboy Toes is a Canadian owned and operated company, our primary customer base is in the United States, which is why prices on the website are listed in USD and why we use a US-based storage and fulfillment partner. We apologize for any confusion!
Please don't hesitate to let us know if there's anything else we can do to streamline the exchange process for you. At the end of the day, our priority is making sure you end up with a pair of shoes you love that fit perfectly, and feel valued as a customer.
All the best,
The Tomboy Toes Team
Absolutely Love it All
I have purchased 3 pairs of the dappers and I couldn't have been more pleased!!! I did get a pair of the cognac color that was crazy mixed match.... I communicated with the company and they were sooooooooooo helpful and concern about me being pleased that the shoes were returned 3 times, but the company wanted me to be pleased 😊 I love their customer service..... I'm in the process of purchasing a pair of tbe brown tie ups and tbe ankle boot, haven't decided which color 🤗🤗🤗🤗🤗Happy Lynnette
Great Boots
My new favorite shoes! I absolutely love these boots. Perfect for days in the office.